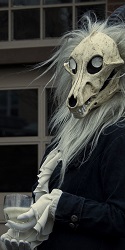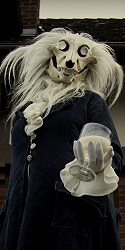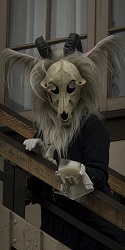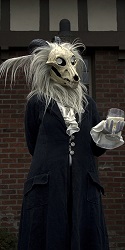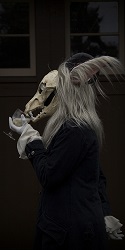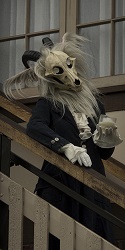 Base by PhazonAlloy, horns by StarbourneWorks.

Mjolki is an artistic interpretation of my allergy to milk/dairy from cows! I had a lot of fun trying to work with parts I didn't make myself, and a new respect for how difficult skull beasts are to make!

She features a primed, painted, and sealed bone finish face, magnetic/removable 3D effect milky cataract eyes, a full NFT hood, 12" long ears, hinged jaw, and attached horns on a comfortable base. She'll fit up to about a 24" head, but the sides are very narrow and will be snug on larger sizes. The whole eye socket areas and nasal opening are open and mesh covered, so the ventilation and vision in this mask is nearly 95% of normal!